Description
Pitta dosha is associated  with the fire element in the body according to Ayurveda. Pitta Body Oil is a herb – infused nourishing and cooling oil to balance excessive heat in the body and mind. This massage oil can be used to soothe conditions such as dry skin, eczema, psoriasis, acne, rashes, burns, arthritis and inflammation. The Pitta Body Oil is soothing to the nervous system and great for calming the mind, increasing circulation throughout the body and promoting the healing of the skin.
Coolherbals Pitta Oil is natural, without harsh chemicals and is a celebrity favorite. It nourishes hair and prevent from hair loss. It is made in the UK and is used worldwide.
Use daily for moisturized hair and skin.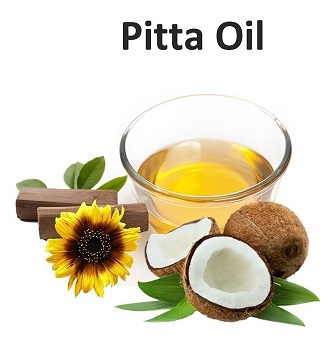 Benefits
• Cools excessive heat in the body
• Soothes rashes and burns
• Reduces inflammation
• Reduces arthritic symptoms
• Calms the nervous system
• Heals skin conditions such as eczema and psoriasis
• Nourishes dry, flaky skin
• Increases circulation and promotes healing
• Calms the body and mind when massaged onto the scalp and feet before bed
What is the full formula of Coolherbals Pitta Oil?
The ingredients are Paraffinum Liquidum, Glycine Soja (Soyabean) Oil, Triticum Vulgare (Wheat) Germ Oil, Lavandula Angustifolia (Lavender) Oil, Linalool, Geraniol, (Sandalwood) Oil, (Coconut) Oil, (Sunflower) Oil, (Bhringaraj) Oil.
The Active Ingredients Of The Coolherbals Pitta Oil Are Bhringaraj Oil, Coconut Oil And Sandalwood Oil
• Coconut oil is famous throughout the world not only as an edible oil and hair tonic but also as an excellent massage oil and a smoother for the skin. Coconut oil is a great skin softener and helps you do away with dry and hard skin conditions. It has been praised and popularized for its anti-aging properties.
•  Sandalwood has long been known for its skin-friendly cleansing properties. It soothes your skin and can help you  get rid of ugly scars, blemishes, spots or eczema and prevents recurrence. It is also an effective astringent that tones your skin and rejuvenates it perfectly.Using sandalwood oil as a massage oil can also relax the stiff muscles caused by your sedentary lifestyle. It is known to be highly antispasmodic because of the sedative and muscle relaxant properties of the oil. It works on your muscle fibers, nerve fibers, blood vessels.
• The best health benefits of Bhringaraj oil arise due to its anti-inflammatory nature. Bhringaraj oil can help reduce fever, relieve body pain, headaches and migraines. Bhringraj oil can also help in the treatment of skin-related diseases. It helps purify the blood and, therefore, fights skin conditions and allergies that can arise due to impure blood. Bhringaraj oil makes the skin appear both younger and healthier.