Description
The CoolSlim Chin Firming Paste is natural, without harsh chemicals and is a celebrity favorite. It has the finest Ayurvedic or ancient Indian botanicals as the active ingredients.
Use the CoolSlim Chin Firming Paste as treatment for chin firming. The paste helps in nourishing and firming the chin. Use the paste as part of the CoolSlim Chin Firming Treatment for a more beautiful and tightened chin profile.
It contains a rich Gopichand Clay and Red Grape Seed Extract to help smooth the chin. Clay  is the star component in so many treatments because it absorbs impurities and helps heal your skin. The use of clay topically for soothing and healing the skin traces back throughout ancient history. Clay is well known for its ability to draw out toxicity from within the body and from the surface of the skin.
Use daily for best results. It is made in the UK and is used worldwide. You can use it by itself.
We recommend for best results use with the Chin Firming Treatment.
The active ingredient of the CoolSlim Chin Firming Paste is Gopichand Clay Blend.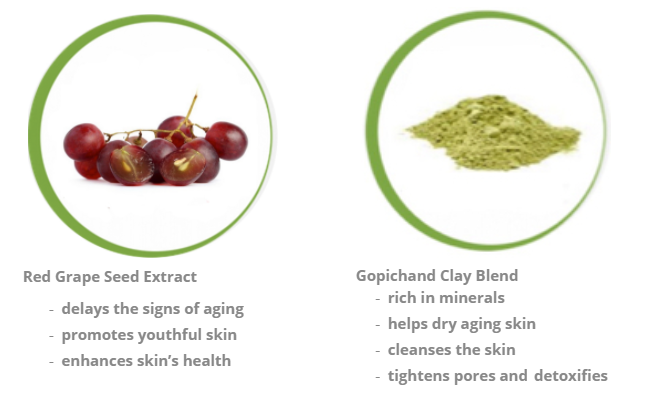 How To Use
• Apply a thin layer of paste on the chin area
• Cover and wrap with the Coolherbals Chin Firming Wrap (not provided with this product)
• Allow to work for 30 minutes. Then wipe off and massage with Coolherbals Chin Firming Serum (not provided with this product)
Use daily for maximum benefit.
What is the full formula of Anti-Aging Neck Firming Paste?
The ingredients are: Aqua, Gopichand Clay Blend, Bentonite Powder, Helianthus Annuus (Sunflower) Seed Oil, Lithanium Calcareum, Laminaria Digitata, Glycerin, Petrolatum, Glyceryl Stearate, Ceterayl Alcohol, Panthenol, Ceteareth-20, Sodium Benzoate, Potassium Sorbate, Phenoxyethanol, Vitis Vinifera Seed Extract, Juniperus Communis (Juniper Himalayan) Fruit Oil, Foeniculum (Fennel Sweet) Vulgare Oil, Cupressus Sempervirens (Cypress) Leaf Oil, Citric Acid, Pelargonium, Graveolen (Geranium Egytian) Oil, Citral, Citronellol, Geraniol, Limonene, Linalool